Tag: Roscoe Smith
by Esoteric on Apr.19, 2010, under High School Basketball, Sports
Here are some quick thoughts on some of the players that stood out to me at the Jordan Classic this year.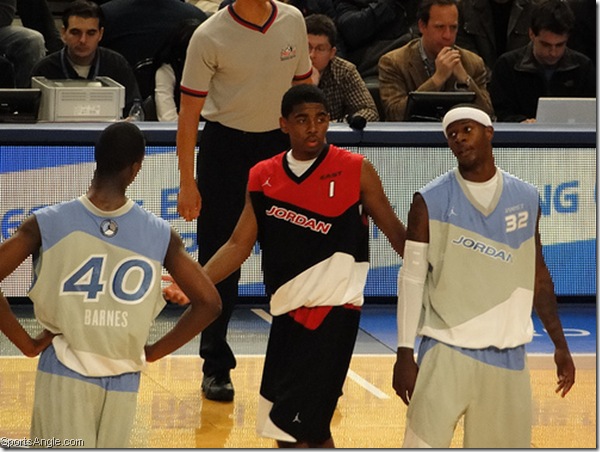 Kyrie Irving, Duke: What can I say that I haven't said this year? Jay Williams said Irving was a combination of himself and Chris Duhon and that sounds about right. So creative, so smooth in transition, with a feathery jumper. He completely took over the game and the crowd in the final three minutes, when nobody could stop him going coast to coast. He's the total package, and when Mike Kryzewski gets him playing that hard man-to-man defense, you're looking at a future Chris Paul in the making.
Leave a Comment
:Brandon Knight, Doron Lamb, Harrison Barnes, Kyrie Irving, Roscoe Smith
more...
by Esoteric on Feb.13, 2010, under Duke Basketball
Talk about a lousy day. After St. Patrick's (No. 6, ESPN Rise) was banned from the New Jersey state tournament earlier in the day because coach Kevin Boyle attended practices before he was technically allowed to, they lost an absolute heartbreaker, 79-78, to No. 7 Oak Hill when gritty shooting guard Derrick Gordon missed a pair of foul shots with .4 seconds left.
Leave a Comment
:Kyrie Irving, Michael Gilchrist, Primetime Shootout, Roscoe Smith, St. Patrick's
more...