Tag: Adrian Peterson
by Esoteric on Nov.09, 2009, under NFL, Sports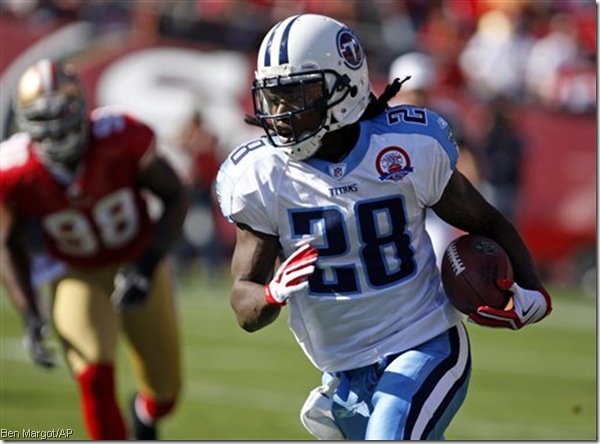 I'm in a fantasy football keeper league. Last year, I had the good fortune of drafting Chris Johnson, Matt Forte and Andre Johnson. As such, my partner and I came to a crossroads this year, and long story short, we ended up with Forte, Andre Johnson and Tom Brady.
With every week that goes by, I realize that we let the wrong guy go, which will haunt me for years. Lost in the uncreative media's need to embrace one guy – namely Adrian Peterson – as the best running back in the NFL is that Chris Johnson is quite possibly better.
It's been well-hidden by how horrible the Titans have been this season, but Johnson has been damn near unstoppable, and that's for a team that's now 2-6 and has had to play from behind for much of their games. Johnson's speed is his main attribute – he somehow famously ran a 4.23 40-yard dash at the Combine – but he's developed shiftiness that will allow him to be a solid goal-line back. He's also a decent receiver out of the backfield.
Through eight games, Johnson is on pace to run for just under 2,000 yards, and he's picking up steam, in large part to his propensity to break touchdown runs of up to 89 yards. Granted, his outstanding yards-per-carry, which is nearly 7, is buoyed by his many long touchdowns, but that shouldn't be held against him.
| Player | Att. | Yds. | TD | Y/C | Rec. | Yds. |
| --- | --- | --- | --- | --- | --- | --- |
| Adrian Peterson | 163 | 784 | 9 | 4.8 | 19 | 189 |
| Chris Johnson | 144 | 959 | 7 | 6.7 | 21 | 162 |
As long as the NFL can't process marketing two players – think about how long Ladainian Tomlinson was the only guy you'd see in ads – then CJ won't get the shine he deserves. It doesn't help that the Titans are putrid.
But as much as I hate to admit it – given my keeper league follies – Chris Johnson's going to be around a long time. And he's going to be a great one!
Leave a Comment
:Adrian Peterson, Chris Johnson
more...