Archive for October, 2009
by Esoteric on Oct.25, 2009, under Duke Basketball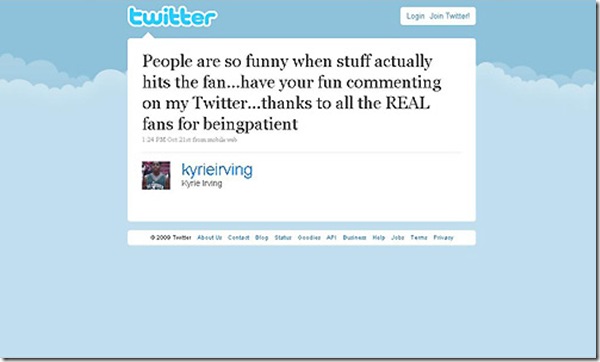 For better or for worse, the amount of access fans have has truly changed in big-time college basketball recruiting, and social media is a major reason why. In the past, high school stars were relatively shadowy figures. We rarely got to see them play, much less know very much about them before they showed up to be big little men on campus as freshmen.
But now? We've seen them play on YouTube, though it's tough to draw conclusions since we likely only see the best the kid has, set to lousy hip-hop. We've read fervently on Twitter as they post important facts about their lives, like what cereal they prefer, when they're studying for biology tests, and what songs they think are most noteworthy. We watch them make off-color jokes on a live stream and egg them on with a comment board. As always, progress is a double-edged sword. On the upside, it is empowering to be able to know ever more about the 16-year-old saviors of our favorite college basketball teams.
But on the downside, while the Lunatic Fringe formerly had to wait until the kid was out on the floor to let them know what they think of their mother and sister, they now have nearly direct access from adolescence. The meteoric rise of Twitter has given everyone with a computer and a fair amount of vitriol the ability to directly address young players who choose to use the 140-character juggernaut. With Facebook, they have room to be even more explicit. In the past, rabid – literally – fans had to resort to team message boards to spout their unhealthy disapproval of, well, everything. Unless recruits had a morbid fascination that I think only applies to the fans themselves, they didn't subject themselves to reading it. But now you have situations such as that of Mr. Kyrie Irving, a top-flight point guard from New Jersey by way of St. Patrick's in Elizabeth, who alienated tons of dozens of fans for the sole reason that he didn't want to matriculate at their schools. Irving committed to Duke University on Thursday and is regarded as potentially the school's best point guard prospect ever, very high praise indeed.  Never mind that Irving was limited to just one school and went with the one where he felt most comfortable. Picking a situation that didn't correspond with the best interests of certain passionate Kentucky and Indiana fans made for a very distasteful backlash.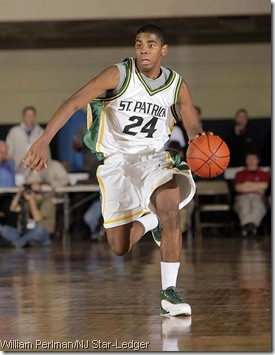 Irving runs a Twitter account which was followed by around 3,000 people, with likely most of them supporters of the schools which were recruiting him. I think he enjoyed the attention that he was getting – what high school kid wouldn't? – and he almost certainly benefited in the selection process from hearing the selling points from fans of the schools he considered. He was also able to communicate with potential future teammates. But he saw the ugly side when he removed Indiana from his short list – leading him to respond… twice – and then when he "spurned" Kentucky to pick Duke. At both times, he was subjected to being called names that would make anyone's mother blush. And they were able to send them directly to Irving with no filters to speak of. Irving, for his own part, used Twitter to help make his day in the sun a little brighter. From all accounts, he was likely certain he would attend Duke after his official visit several weeks ago. But he indicated that he would use Twitter to announce his choice, drumming up copious followers. He used the site to detail his subsequent official visits and demonstrate what appears to be a fantastic work ethic. He eventually chose to announce his destination with a news conference on ESPNU, which is fine – his hard work dictated that as a reward. Reports surfaced from time to time that called him a lock for Duke – correctly – and Irving actually took back his ability to make the announcement on his own by denouncing on Twitter that he had committed to Duke. Semantics dictate that Kyrie is technically accurate true, as he officially didn't commit until his ESPNU presser.
So that's the advantage. Twitter afforded the young man the ability to attract attention that he normally would not have been able to garner, and let him control his own announcement. In the past, a couple dozen hardcore aficionados would have heard of him. Now? At least 3,000, and then however many more watched his commitment conference. And make no mistake, every time he said something on his site, people overanalyzed it to death. The disadvantage is the unfettered access that allowed fans to voice their displeasure directly to him in quite colorful terms, even leading him at times to attempt to provide a lesson in morals to them. To Irving's credit, he did not seem that adversely affected by the interaction. Now I can't determine whether the positives of having the forum to self-promote outweighs the perils of letting idiots have a crack at you. But there's no looking back. The days of word of mouth, and seeing a recruit for the first time when he steps on campus, are over. And though the enhanced access we experience is all in the name of progress, one has to think that just maybe, we were better off in a simpler time when we didn't have the power to practically reach out and touch a recruit. Was it perhaps more satisfying learning about a player once he actually gets to campus? It just might turn out to be true that knowing everything isn't the best thing.
Leave a Comment
:Kyrie Irving, Twitter
more...
by Truth on Oct.18, 2009, under Duke Basketball
8pm, October 16th, 2009.  What a spectacle!  Cameron was rocking to kick-off the official start of the Duke Blue Devils college basketball season.
Traditionally, Duke has not often participated in the annual brouhaha formerly known as Midnight Madness; however, this year marks a new tune for the program as Duke has decided to enter the yearly fray with its own customized kickoff celebration called Countdown to Craziness.
Overall, the staff did a wonderful job putting together a fun-filled event.  Highlights from the night included the annual Blue-White game featuring two special Duke legends — Christian Laettner and Bobby Hurley — as guest coaches, theatrical player introductions by legendary announcer Michael Buffer, a high-flying dunk contest, and performances from the Duke University Improv.
Visit www.countdowntocraziness.com for a full video recap of the night's festivities!
Leave a Comment
more...